What is the Optilume® BPH Catheter System,
and how is it used?
Typically administered as an outpatient procedure, Optilume® BPH is a drug-coated balloon that is inserted into the urethra via a telescopic camera, to the prostate.
Once in the prostate, the balloon expands creating an opening, and releases the safe and proven drug (2), Paclitaxel, into the open prostate.
When the drug coating is fully released, the balloon is deflated and removed. The drug prevents re-fusion of the lobes during healing, keeping the prostate open, restoring the flow of urine and relieving you of your bothersome symptoms.
No cutting. No heating. No burning. No lasering. No steaming. No implantation!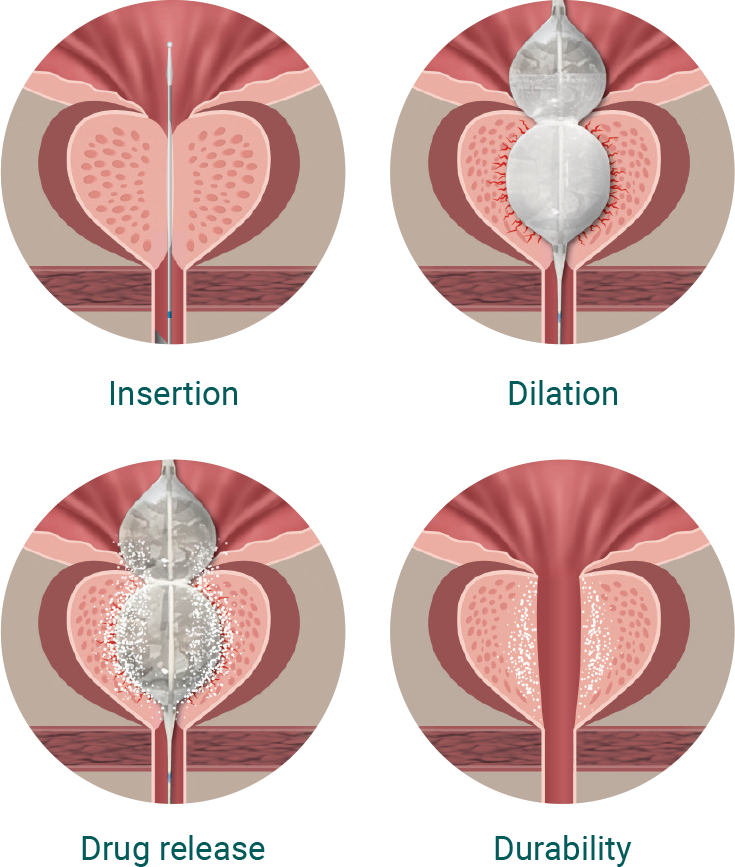 Choose the Optilume® BPH Catheter System for immediate, lasting results
Clinical studies show Optilume® BPH is safe and effective (3,4)
Immediate and durable symptom relief (3,4)
Minimal catheter time (3,4)
No impact on sexual function (3,4)
Quick recovery (3,4)
Highest clinically reported flow rates of any minimal invasive therapy (4)

In-office/outpatient procedure

No cutting, heating, burning, lasering, steaming, or implantation
After the Optilume® BPH procedure you will notice an immediate improvement in both urinary symptoms and quality of life, including improved urinary flow and the ability to happily relieve your bladder. Clinical studies show significant and durable improvements (3,4), allowing you to reclaim control of your urinary system.  
Discover the difference Optilume® BPH can make in restoring your quality of life. Ask your doctor about Optilume® BPH today.