Award Winning e-Simulation
Use our free award winning e-Simulation training course to help get the staff up to speed. Pick your doctor, the scenario, and then step into the OR to familiarize yourself with how to use the ebb Complete Tamponade System while saving a hemorrhaging patient.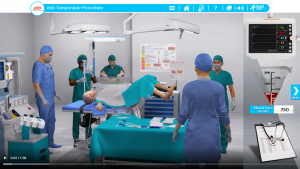 The only dual-balloon catheter
The malleable balloon material allows the vaginal balloon to conform to the patient's anatomy better than silicone. The uterine balloon has a fill capacity of 750 mL, and literature suggests that >500 mL may be required to achieve tamponade in 45%3 of cases. The vaginal balloon anchors the uterine balloon, reducing balloon expulsion while potentially treating vaginal bleeding if present.